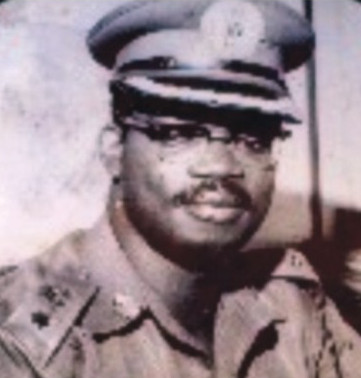 No song can ever be enough, no words can fully eulogize one who is leaving millions of songs and countless words in the minds which he directly influenced and the others who are perpetually blessed by those who he had imparted on. So we must sing and we must continue to pour our libations to this great man who has left to watch his children from the bosom of our God.
I celebrate you sir, for I know that though you may not have had a glamorous beginning, you rose against all odds to become a symbol that many aspire to be like in this age as it was in the past. And like me, many who grew under your tutelage have risen to make efforts at following the path that you treaded and to make as much impact as you did in the lives of those who aspire to become great leaders like you were. One of such men is me who strive everyday to become the man you were, only to always find that you are always ahead of all of us.
I first knew you only because my father was your driver and now I recall how I looked at you at the time, like one who was super-human, how I wished that I was you and how I dreamed even while I walked that I had your gait, your composure and your intelligence. That was the dream that propelled me, like I know it did for many others, to aspire to greatness even from very humble beginnings.
I recall how my father came with me to pick you from the Ikeja Airport sometime in the 1970s, and how your gift of a one shilling coin meant so much to my impressionable mind. It was the highest gift of money I had ever received (though my father later took it from me). In my mind, I can still see you talking to my father about the Nigerian Military School where you had served as Commandant and asking him why I should not sit for the Entrance Entrance Examination and even advised on the books I needed to study because it was impossible to gain admission without passing the exams no matter what the status of your parents were. The words became the seed and the journey to becoming like you began.
And today, I sit to reflect on those times and how time has passed to bring us this far, I imagine all that you had to live through to develop the Nigerian Military School into the centre of excellence that it turned out to become. I reflect on a period, about a year ago, when I sat in the chair you once sat, as the first product of the very institution you contributed in building, to serve as the Commandant of the same institution. And now, like in the near past when I was Commandant of the Nigerian Military School and the far past when I was a little boy admiring you from a distance, I still imagine you standing and instructing me on the best ways to get things done. Today, I am proud and eternally grateful because you lived to see one of your dreams come true in me as I left my fathers seat in the front of the Staff Car in NMS and took over your own at the rear right side. The realization of your dream propelled me to work hard, to provide the right environment for those we train today to become the kind of leaders you had envisioned us to be.
You were a great man - an icon in many respects, who had so much discipline in you that it created an aura that affected those who were around you. This aura was so strong that when we came in as Boys, a few years after you had left, one could still feel it. And in the over two years that I served as commandant of the great place that you built, the aura still permeated the soul of the institution to bring out the best in all who were involved with the school.
My visit to you on December 22nd, 2015 was my first and it came when I became the first of the products of the Nigerian Military School which you contributed immensely in building. That visit still plays back on my mind and your words which have now become to me like the final words of a father to his son continue to reverberate through me to make me a better person. Your prayers for me on that visit can be likened to those of our Lord Jesus Christ to His disciples at His Last Supper because it was the very last prayers from you for me. The prayers, like the words you spoke to me have propelled me since and still move me in very positive ways
You were first in many respects - first indigenous and the longest serving Commandant of the Nigerian Military School - the only one to lead the school through the pain of our country's civil war. You were also the first indigenous head of the Nigerian Army Education Corps as it evolved to its present status. Through all of these, you became the father of countless Generals in the Nigerian Armed Forces and other successful leaders in business and the professions as well as many others who rose in Defence of the integrity of this great country.
I am particularly emotional about this because I am one who lived as a Barrack Boy in NMS wherein you helped build, I was an NMS Boy; I returned as an instructor and taught Chemistry for four years in the great institution and returned as the first Ex-Boy to serve as the Commandant of the school which you had sacrificed so much for.
I, like many others, have risen to our current status because you dreamed, and made so much effort to see to the realization of your dream. That is why you ensured that everyone was given a chance irrespective of social and economic background and also made sure that everything one desired was gotten on merit. It was upon this premise that many of us have grown, praying hard to be like you.
You are the mentor that has been a father to our nation; for this can be said of only those who have headed institutions that are truly national. And from the position which you held as a Major through to becoming a Colonel, few can be said to equal your achievements. And as the father of our beloved corps, your dream has metamorphosed into our great achievements through our activities in all the states of the federation. And now, as I serve as the Commandant of the Nigerian Army School of Education in the Corps which you fathered, I cannot get all of us to thank you enough for your wonderful vision which has created this great giant that is affecting the lives of a multitude in very many positive ways
Success is only true in the successes it builds. There is no greater testimony than the fact that you lived to see the boys you trained grow to succeed you in becoming wonderful success stories. You were indeed a great man who epitomizes the true meaning of success. You still remain one of the greatest men in our history even as you rest.
We will not mourn, for I know that great men do not die - they live on in our hearts where they can no longer grow old and weary; where their voices will continue to sound fresh every day; where their instructions will no longer be affected by time and space.
Our hero, father, and great inspiration, General TB Ogundenko, you have gone as a shinning star to be amongst the stars of heaven and I know that at this moment, you are smiling down at us watching as we celebrate the great life you lived and the greater one which you now live and will be forever.
Your time to proceed from here has come like it must inevitably come to all of us, but your light is not extinguished and it will never wane. For you shine in more than one heart- you shine in millions of hearts across the world. So no plague, no disaster - nothing is capable of dimming the flame which you lit, and it will continue to shine through countless generations to brighten their paths and help them create a world better than you lived to see.
Adieu Papa; march on, great general, like the Colossus that you have always been. You are still alive in our hearts.