I was all set to attend International School Ibadan (ISI) when I received a phone call from my friend Usman Abdullahi later known as Usman Jalingo.  Usman was going to the Nigerian Military School, Zaria (NMS).  His father was a close personal aide to Nigeria's Head of State Babangida and Usman was born to be a soldier.  Little did I know that Usman's call was going to change my life way beyond my dreams. 
It was New Year's Day, 1991 when Usman called.  Usman told me that my name was on the NMS admission list.  Even though I attended the NMS interview, I was eager but not too eager to attend NMS.  Yes, I was bedazzled by the young boys in army uniforms during NMS entrance exams, but ISI had arrested my mind.  My older cousins attended ISI, their Dad had paid my school fees, and I attended a social event on ISI's campus.  I still remember the nickname of one of ISI's biggest boys-Faffy.  So, I received Usman's call without as much enthusiasm as he had for the news.  He informed me that Tokoni Alek was also on the list and we are supposed to resume on January 4, 1991 - that was in 4 days, Friday.
Obviously, my father was unconcerned about my entanglement with ISI because when I told him about Usman's news (note: not my news), everything changed for NMS.  In fact, I don't recollect my father asking for my preference.  And so, on January 3, 1991, we boarded a Nigerian Airways plane for Kaduna and spent the evening with my Aunty and signatory to my NMS form, Major S.I. Oyedeji. 
The Commandant, Col. Ogunribido, was an uncle to Major Oyedeji and my first port of call was the Commandant's office where Col. Ogunribido introduced me to WO I Adekunle and asked him to be my guardian.  After that, I was taken to the assembly hall where my NMS journey started.
Ghen Ghen! I was in over my head.  Bobby Brown was one of the stars that I fancied then and on January 4, 1991, I was dressed like Bobby Brown - wet looks shoes, a black shirt with gold embroidery, and black pants.  I had a Bobby Brown haircut to match.  But thank God, for the then 2/Lt A.O. Adebanjo who was in the assembly hall when I entered looking like a true Lagos boy.  Guess whose attention I caught first?  Conjumi Sapeti!  He shouted you come here.  I looked at him and I was wondering why he was shouting at me.  Since I did not respond, Conjumi got up to repeat his orders which I was going to ignore anyway.  Miraculously, 2/Lt Adebanjo said, "allow that boy" and someone directed me to the Echo Company table where the Echo Company Senior boys processed my intake amid loads of laughter.  All through my stay in NMS, the later Col. Adebanjo was a tough cookie officer, but I always had a soft spot for him.  He was my guardian angel and likewise, he had a soft spot for me.  I never entered his trouble, he was a firecracker! 
Anyway, back to Jan 4, 1991.  Guess where I was sent to from the Assembly Hall?  The Golden Barbers where my Bobby Brown haircut was giving a befitting burial, little did I know that I just started.  Then it was off to Quartermaster where I was given a mattress, army box, metal plate and spoon, and the bunk bedframe to carry.  Mehn! I wondered whether these soldiers were crazy and how was I expected to carry this load by myself, but then my contemporaries had begun carrying their bunks on their head and off to our world of Wahala.  As I was struggling to put my bunk on my head, a barrack boy came to help me, and as a true Lagos boy, I quickly offered him a crisp ₦20 note if he would help me.  
From Quartermaster, we went through permanent staff passing Cook House Sergeant Mudi's house, WO I Adekunle's house, and WO II Moses' house.  Unbeknown to me, that row would become my 2nd home and dodging spot.  We passed through the tarred road and then cut to Bravo Company, Charlie Company, and then arrived in Echo Company.  Thank God for the Barrack Boy - I was clueless.  He helped me set up the bed and then disappeared forever. I had my first NMS food that evening and true to form, it was beans and corn, which I emphatically and categorically rejected and did not eat. My coursemate, and now Major Salisu Bakori, admonished me to eat because they may not give us food for another week.  The food was darn too ugly for me to eat.  On the other hand, the senior boys were regaling us with stories and giving us a false prelude to the misery that was about to befall us.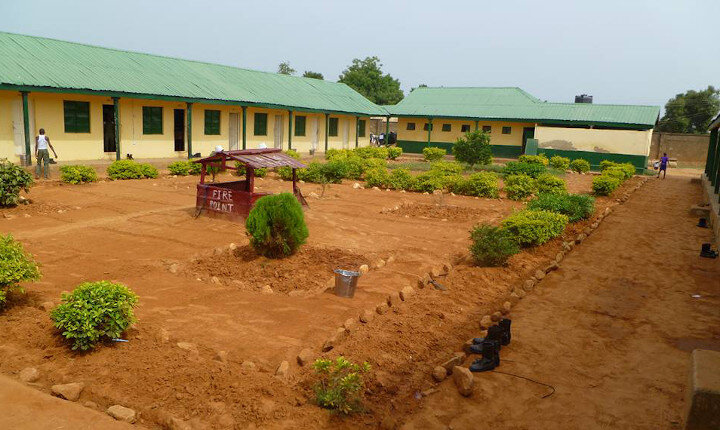 We We were enrolled in Cadre Course, a two-week initiation process where 10 class 5 boys (now SS III) who are gunning for leadership appointments in the school arrive early to guide the incoming freshmen-boys.  A better description is that it is a delusional experience because those seniors were so nice to us, gisted with us as we all sat on the verandah.  They did not even tell us that we would not be able to walk on the verandah when School resumed.  It was a very nice experience but delusional.  
Anyway, I was fortunate to have been assigned to Echo Company and my Cadre Course was in Echo Company.  There was a nice and gentleman who was our drill instructor, his name was WO II Mukaila Baba.  He was an excellent drill instructor and made learning military drills fun.  So I remain amazed at how he became a terror to senior boys when he was appointed Regiment Sergeant Major (RSM) of NMS.  If you hear cries from afar, it was RSM eating, sorry biting, the ear of an errant senior boy.  As junior boys, we loved him but that affection gradually transformed as we increased in class.  RSM Baba is a story for another day, so let me return to regaling you about my Echo Company memories. 
The first class I met in NMS were members of the 1986 admission class which we call NMS/86.  Echo Company was blessed with great gentlemen like Senior Salisu Abubakar, our B/CSM.  He was assisted by Senior Telko Labar, another excellent gentleman with the mien of a father.  I remember Senior Tosin Ogunleye who was Sergeant PM, another exemplary gentleman.  We did not know that he was a member of the Devil's Corp, sorry Provost Corp, but he was not a devil.  But then I met him as a Lord, so I am not qualified to pass judgment on whether he was a devil or not. I remember other Echo Company NMS/86 like Senior Timothy Jaiyeoba, he will laugh with you but can kill you the next second, he was NMS's drummer and always made Padre Hour fun when he is on the drums, Senior Seyi Esan, Emmanuel Joel, Umar, and my great master and his roommate: Senior Femi Fadoju and Senior Chima Nwosu.  Would you believe that I later discovered that I had a close family connection with Senior Seyi Esan? Can you imagine, I discovered years after we passed out. Anyway, Senior Seyi Esan was a nice senior boy.  Senior Femi Fadoju selected me as his boy since I was his "Statee" (from the same state).  Senior boys found any reason to select you as their boy just to deceptively make you feel special.  NMS trouble does not know tribe or religion!
I always wondered how Senior Chima Nwosu made it to Cadre Course because he was Gangster number 1.  Years later, I found out that he was a very moving (feared) and coming up Echolite and missed provost (the devil's corp).  Anyway, we soon found out that we were both born in the same hospital, Georgetown Hospital, Washington D.C. and I became his honorary boy. Other NMS/86 Echolites were Seniors Moses Ifere, Dan Kure (aka Ruke), Haruna Dasuki, Umar Maikafi, Femi Oluwatosin (Olubobo, I heard he is late now), Aaron Suna.  Senior Moses Ifere was a quiet ex-provost who had dropped the evil toga.  Nonetheless, I always stayed away from anyone who was an ex-provost.  He was roommates with Dan Kure and Provost Buhari Madaki.  My brother, nothing can take me to a room that harbors a provost.  For an ex-provost, Snr Femi Olutosin was loquacious (hint: that's why he was called Olubobo).
NMS/86 ruled Echo Company with a calm and gentle hand.  Senior Moses Ifere told me that the peace we enjoyed in Echo Company was a collective decision of NMS/86.  I suspect that Mark Upaa must have made their lives so miserable and they realized that making the lives of their juniors miserable did not improve discipline.  So, we were the beneficiary of a great and enduring legacy. Echo Company was a peaceful company, we barely served general job.  I give kudos to our CSM Salisu Abubakar, Telko Labar, Senior Tosin, and the rest of Echo Company NMS/86 because they were leaders who set about making a change.  They saw a problem and fixed it!  If Nigeria has leaders like Echo Company NMS/86, Nigeria would be a better country.  Even though Echo Company carried the wooden spoon that year, their legacy of making Echo Company the most livable company remained because NMS/88 carried the torch forward. There was no NMS/87.  
If Nigeria has leaders like Echo Company NMS/86, Nigeria would be a better country.
Echo Company NMS/88 was ably led by Senior Dominic Angelo, Senior Clifford Wilcox Dagogo, and I don't remember who was sergeant PM.  Senior Dominic was a great B/CSM.  He did not seek to make our lives miserable, he ran the company like an efficient chief.  Echo Company was not a miserable place during his regime, at least from a junior boy's perspective.  He gets an A like his predecessor. At this point, I must make honorable mention of our record-busting B/PM who became the first B/RSM from Echo Company, Senior Lazarus Tswanya.  Boy O boy! Senior Lazarus was a true-to-form provost and provost marshal.  For a brief period, he was a roommate with my Master, and boy did I receive his knocks, they were deadly! 
Senior Lazarus was always immaculate,  I was the opposite of immaculate.  It was not unusual for junior boys to skip showers for over two weeks and I was not any different.  Senior Lazarus did not take indiscipline lightly and I don't think I ever passed by him without getting a knock or buying his job.  I avoided him like a plague but his elevation to B/RSM remains indelible because it happened like a dream. Echo Company was not known for producing school appointment holders.  It seemed like Senior Aliyu Jubril of Delta Company was ordained to be B/RSM.  He was a stellar candidate and always took over parade from NMS/86 B/RSM, my inimitable Oga Zurex, during rehearsals.
On one hot sunny day, we were rehearsing for NMS/86's passing out parade (POP), and Senior Aliyu took over the parade from Oga Zurex.  As he bellowed out his command, WO II Solomon Lenchak was not impressed.  Lenchak asked him to repeat the command but no improvement.  And so, WO II Solomon asked the NMS 88 boy from Alpha Company, probably Oga Haruna Ibrahim, aka "Let's Go" to take over the parade.  Lenchak did not like his command and sent him back, Oya! Bravo company, come and try.  Senior Lantony Lamon was commanding Bravo Company and WO II Solomon beckoned on him to take over the parade. I assumed since WO II Solomon was Bravo Company Sergeant Major he gunning to put Senior Lantony in the race for B/RSM.  Alas, I was wrong as Lenchak sent him back and called Friday Gombul of Charlie Company to try.  Gbosa! no way and it was the turn of Delta Company but WO II Lenchak was not satisfied.  If I ever get a chance to meet Senior Aliyu Jubril, I would ask him what was on his mind as his dream appointment frittered away.  
And so it was that Lenchak beckoned on Senior Lazarus of Echo Company.  I vividly remembered watching Senior Lazarus march forward with the expectation that he would be back.  I was jostled out of my daydream and Solomon Lenchak's exercise in futility when he said "eh hen, this is" it in Hausa,  Shikena, that was it!  Like RSM Baba, Solomon Lenchak, was a first-class drill instructor, and they must have agreed that Senior Lazarus drill was impeccable with a history of excellence.  He was Letter Boy, Provost, Putty Marshal, or is it Provost Marshall.  Anyway, na so God win o.  Senior Lazarus was appointed B/RSM but I cannot say that it made life any easier for NMS/89.  However, back to Echo Company and our great Echolites.  
Other indelible NMS/88 figures include senior Matthew Bello, he is late now.  You would not believe he was an ex-provost.  Kind, gentle, reasonable, and compassionate.  He was an excellent footballer along with Senior Yusuf Garba, another ex-provost who seemed to have removed the evil toga of being a provost.  Senior Michael Ojomo, my NMS/88 master, was another great Echolite and so was Senior Cyril Akabuogu, a jovial and hilarious senior, he always cracked us up as junior boys. I remember Senior Mohammed Wade and his pal, Senior Aminu.  Others are Senior Gambo Hassan, Saucequa (a Parker Army Officer now. Don't remember his name), Senior Ikhide, Senior Innocent, Senior Ugo, Senior Teslim Balogun, Senior Toye.  I cannot forget the great Senior Allen Yazu as well. NMS/88's regime was not in any way different from NMS/86.  Our lives were livable, and the Company leadership did not seek to make our lives miserable.  Nonetheless, you never want to poke the eye of an Echolite because you will get a collective response.  
One question, is the Company PM, Putty Marshal or Provost Marshal? I did not know then and still don't.  Anyway, one day, Delta Company Provost/Putty Marshal, Wazito came to shout for an activity in Echo Company.  I don't recollect or know what happened exactly, I was too junior to know such state secrets.  The rumor is that Wazito was shouting "Echo Company Prep" which implied that the entire company should go to prep.  But Wazito had seniors in Echo Company and that was inappropriate.  I was not there but I believe Senior Clifford Wilcox told him to correct his shouting which he declined to do.  Another rumor I heard was that Wazito had been feeling "ghen ghen" to Senior Clifford, possibly walked by Senior Clifford and did not greet him, which was a TREASONABLE OFFENSE in NMS.  Whatever the actual story is, Wazito came to Echo Company to shout and did not remember that he had made enemies.  But then a PM is a deity!
A company provost marshal (PM) is a mini-god.  Provosts are the engine room of NMS, they are the ones who ensure order and discipline is maintained. The Company Provost Marshals or Putty Marshal (PM) is their supervisor - don't you just love NMS order and efficiency.  PMs are treated like mini-class 6 boys, but they must respect themselves as well.  As with all humans, some PMs push the boundaries of their authority and prestige.  For example, a big Class 5 PM may ignore the orders of a docile Class 6 boy.  However, if the Class 6 boy makes it an issue, and his mates support him, the PM buys job.  But this was not the case with the Wazito Saga. 
Senior Clifford Wilcox was Echo Company Boy Staff Sergeant, the deputy.  At about 6'5 tall, he was physically a big boy.  While he was not an ex-provost and may have been a lousy junior boy - I was not there so I don't know, but Wazito would know.  My point is that before you SPARK (refuse orders) for your senior you must size that senior up whether if na Rofo Rofo fight, you go win.  And while Senior Clifford was not an ex-provost, he Echo Company Boy Staff, and that required some decent respect.  Whatever the actual story was, whether Wazito did not greet him or failed to report, Wazito came to Echo Company to shout, and Senior Clifford remembered. 
When a junior refuse your Orders, you go physical.  And so, Clifford Wilcox jacked Wazito.  Quickly, the other NMS/88 Echolites swarmed in.  Apartheid happened immediately.  The non-provosts sided with Senior Clifford.  I was hearing statements like "who is he?, what does he think he is?, Let him fix up and report?"  At that point, Wazito had bought the entire Echo Company NMS/88's job even though only a few of them could face Wazito.  Unfortunately for Wazito, the only ex-provosts around were either Senior Dominic, Matthew Bello, or Yusuf Garba, but all of them were reasonable fellas. So, Wazito was ordered to report FSMO the next day. 
O boy! Echo Company, was shaking when Wazito reported FSMO.  Provost manned all the entry points to Echo Company to ensure no junior boy was privileged to the abomination that was about to happen.  Wazito arrived with School B/PM, the great Man Timo, Senior Boniface Edibo who had a quick audience with Senior Clifford.  Only Jesus could save Wazito from not serving any job.  So, Timo left and the Great Wazito grazed our Echo Company sand and body with his body.  I remember seeing the great Wazito somersault in Echo Company - that is a sight I still vividly remember till this day.  And soon after, the regime of NMS/88 ended. 
Echo Company NMS/89 was led by B/CSM Adebisi Onasanya.  His deputy was the great, Santiago, and I believe either Senior Buhari Madaki or Senior Moshood Dalhatu was Sergeant PM.  Senior Adebisi Onasanya was a provost when I entered NMS.  He was not a malicious provost, he did his job as was expected.  Even when he was asked to "job" (punish) you, he did it with compassion.  He was not any different as a PM.  So, his regime in Echo Company was peaceful just like his predecessors. He gets an A!  However, there were a few evil spirits rumbling around in Echo Company that year. 
By the time NMS/89 reigned supreme in Echo Company, I was now a Class 4 boy, a small senior boy. I was a dining hall boy and our first semester as dining hall boys was a challenging one because of Santiago and his compatriot, Senior Masud Dalhatu.  They loved meat pieces.  Santiago was Boy Staff and had the roll call of boys on AWOL.  He wanted all the meat pieces of AWOL Boys just like the other appointment holders.  So, we had cases of 3 senior boys wanting the 1 piece of a missing boy.  Senior Santiago and Senior Moshood Dalhatu made our lives miserable as dining hall boys.  I recollect sitting on my head for hours in Santiago's room because of meat pieces until I had a Eureka moment - cut the meat pieces into two.  On the days we had a surplus of meat pieces we banked them in the ceiling.  During the cold weather, the meat pieces were well preserved.  But during the hot weather, the meat pieces rotted.  I have since confessed to Oga Santiago that his stomach was well trained. 
Once we figured a solution to our meat piece problems, our lives became significantly better.  We were particularly lucky with Echo Company Ex-Dining Hall boy issues.  Generally, dining hall boys are selected in the first term and generally serve all through the year like provosts. NMS/89's case was different.  The dining hall boys were changed several times when they were class 4 boys and so we had about 8 Echolites claiming to be Ex-Dining Hall Boys.  It was beneficial to us because we had 8 senior boys who understood our predicament and were willing to help us plead when we bought jobs. Since we were banking meat pieces, we had surplus pieces to send our Ex-Dining Hall Boys to keep them happy.  As with all regimes, POP arrived, and NMS/89's regime ended.  I was now a Class 5 boy and closer to the corridor of power.  However, the respect given to class 5 boys had declined substantially.  We were essentially glorified junior boys especially the lance corporals. 
Echo Company NMS/90 was led by the great B/CSM Segun Otenigbagbe (aka Otes).  His deputy was another indelible figure, the great Friction Zuga aka Sanchose, aka no matching san-san.  Sergeant PM was supposed to be Senior Okpoyo Etim since he was the first sergeant listed on the Appointment Orders but the great Raymond Ochigbo, Kiddo Bag Guy usurped the position.  Other NMS/90 were Senior Leke Beecroft, Abayomi Fidelis, Adeolu Adewunmi aka Mongo, Nsa Aye Nsa, Paul Nnaji, Aya Tombri, Suleiman, Samaila Sidi, Samuel Iko, Enyeniyi, Tayo Bogunjoko. 
Otes and Zuga were the first ex-provost team to lead Echo Company and you would think Echo Company would return to the days of hell.  But Otes was a great CSM in the mold of his predecessors.  He was an efficient chief who cared primarily about getting the job done and discipline, he was chill and sociable.  Otes was small then, he is now a big boy - NMS beans and corn worked, and so long as he does not think you are assuming with him, you are cool.  I recollect that on January 21, 1991, Otes was the Class 2 boy in charge of my group during morning duties, and it was Otes that taught me how to backward sweep.  He was flag boy, provost, lance corporal, and then CSM.  In summary, he gets an A for his Echo Company leadership and regime.  Unexpectedly, he is a parker and excellent warfighter for the Nigerian army. 
The biggest threats to our peaceful existence as Echo company class 5 boys were Senior Raymond Ochigbo and Friction Zuga.  Have you heard of the Echo Company saga of two PMs on POP day? That is a story for another day.  Anyway, I believe Friction was disappointed that he was not appointed CSM and so he tuned out.  He became chill, sociable, and understanding.  Zuga was one of those guys that deep in his heart was a nice guy but had to wear the evil toga to accomplish his personal goals.  He was letter boy, provost, lance corporal, and then B/Staff.  He was older than his peers, was able to instill fear in his immediate juniors, and politically savvy.  His co-conspirator was Senior Funsho Yusuf who became B/Drum Major and moved out of Echo Company.  
Soon after appointments were announced, Friction and Kiddo engaged in a battle to affirm who was the boss.  Raymond, as ex-PM, still wanted to assert his authority while Zuga, now B/Staff, wanted to affirm that he is now the Power.  Like I said earlier, deep inside of Zuga, he was not a mean person, he realized the battle was unnecessary and just tuned out.  And soon after when Raymond realized he was just the only one disturbing us, he lost appetite.  Now, Senior Raymond Ochigbo, aka Kiddo Bad Guy was a special kind of guy. 
My first recollection of Kiddo was seeing his uniform and name tag Raymond Ekpa in Echo company End Room.  His master was my honorary master, Senior Chima Nwosu.  One day, I met Raymond shivering in Permanent Staff.  He was sick and did not have the funds to go home.  So I offered to pay for him to go home.  I went along with him.  You would think that Raymond would have given me preferential treatment for the rest of my stay in NMS but no way.  The job had to be done.  I do not recollect Raymond patching for an appointment.  I remember Zuga was Letter Boy, Funshy was stamp boy, and Otes was Flag Boy.  Raymond tells me he was patching but I don't recollect.  Whether he patched or not, Gbam! Raymond is hanging the RP badge. 
By the time I was in Form 3, I was tired of NMS and just barely surviving.  On resumption day of 1993, as soon as I dropped my luggage in the Box Office Room, I just headed to Plantation on my way back to Lagos.  I decided I was going to attend St. Finbarr's College and I had enough of this army shit. The story of how I got to Lagos is a different one, but I got to Lagos and I was roaming Ojota for several days before I went back home.  My father let me rest for 1 week and then I was taken back to NMS.  I was assigned to Senior Michael Ojomo who then put me in Provost Raymond's room.  I had no belongings and my dad bought me a new mattress which my master immediately usurped and gave me his own.  How can a junior boy be sleeping on that excellent mattress?  I had decided to make it in NMS and Provost Raymond helped.  He told me his rules and I meticulously abided by them.  He was a great provost roommate and I don't recollect him flogging me or even punishing me while I was his roommate.  He taught me that with determination and focus I can be anything I want to be.  We were still together over the weekend. 
However, the story changed, when Raymond was appointed PM.  Raymond became deadly.  We are still very close today and he does not remember the transition.  I avoided Raymond as a PM even though we had a good history.  I avoided him even more as a class 5 boy.  And so, when Zuga tuned out and Raymond realized he was the only one disturbing us, he tuned out as well.  The rest of my Class 5 under Echo Company NMS/90 was relatively peaceful.  However, this story would be incomplete without mentioning the Great Funshy Man. 
Senior Funsho Yusuf was Stamp Boy, Provost, Lance Corporal, and ultimately B/Drum Major.  Most importantly to me, he was Friction Zuga's right-hand man.  From early on, Funshy Man was not a devil.  He just did his job and gave "Ogboju".  Outside of army work, Funshy was a cool and social fellow from Ilorin.  But then can you mention cool and Ilorin in the same sentence? Ha, permission to sit up there!  Like him or hate him, Funshy was and is a strategist extraordinaire.  He was always light years ahead.  By the 3rd term of his Class 5, Funshy Man started showing up from Drum Corp practice playing the flute.  We all knew Funshy was not any darn drummer but unbeknown to us Funsho had sized up the NMS/90 battle for Echo B/CSM. 
The four NMS/90 provosts were all capable to be appointed CSM.  Then there were non-provosts like Seniors Aya Tombri equally capable of the appointment.  No such competition existed in Drum Corp among NMS/90 and so I postulate that Funshy figured it was not a bad idea to become a drummer. He started attending rehearsals, taking charge, and getting noticed.  He executed his plan perfectly and was appointed B/Drum Major.  And because Funshy was gone from Echo Company, Friction Zuga was left by himself without his co-conspirator.  It could be said that when you buy Zuga's job, it was Funshy that egged him on.  Anyway, for us, we saw PEACE. 
And soon after, there was a curtain call on NMS/90's reign and it was the turn of NMS 91.  My right-hand man, Joseph Aneke, was appointed B/SOPT and he offered me the position of roommate which meant I moved to the B/SOPT room.  I hope NMS 91 carried on the legacy of peace for Echolites.  I don't know I was not there.