About this time last year, as I watched the Boys marching proudly on the Parade Ground during the NMS Passing out Parade, my mind flashed back to a few years ago when I walked into the institution with all hopes lost on a future that seemed too bleak to wish for. Then I overheard two Boys talking.
I heard that Boy RSM raised money to pay the SSCE fees for some of his mates
one of the Boys said.
It is not true joor!
the other Boy retorted.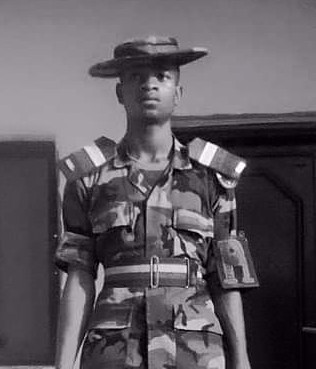 I remember walking past them like I didn't hear their little conversation. Those few words from the Boys stuck and I decided to try to find out. And what I found left me with, first, disbelief then a deep smile jumped into my face and gave me hope. I found out that some class 6 Boys were having challenges with their exam registration payments and they were almost losing hope. I found out that the Boy RSM encouraged his mates to rally round in support of their mates. With this effort, he was able to bring his mates together to make sure that every one of them sat for the exams. He also ensured that they learned together and helped one another to understand more, he led his mates who had already made him the rallying point for very many of them. That year, the Nigerian Military School made an impressive 98% in WAEC and 100% in NECO SSCE.
Shortly after this, as they prepared for the Passing out Parade, the same Boy RSM, noticed that some of his mates could not afford to look as good as the others because they were not able to acquire new Ceremonial Dresses for the parade and other ceremonies marking the end of their stay in the Nigerian Military School. He made arrangements to buy two pairs of Ceremonial dresses on his own and got his mates to come together and assist the others. As they filed past from the RSM Yamusa Kumasi Parade ground, I had found myself praying for him and his mates with the words,
...farewell, my brothers and show the leadership you have learnt here to our country and our world.
I knew that the ground would miss him and long for all his mates. This great NMS Boy in his teens was able to show me that our future is not without hope. He exuded the kind of charm that brought people together to achieve great objectives. I found time to discuss with him and he told me how much the Commandant rubbed off on him. He spoke passionately about the Commandant and the sacrifices Brig. Gen. Fayehun was making to make the school great again. He said so much about how he was greatly inspired by the Commandant to give his best. He almost reminded me of the Best I knew, BRSM HT Wesley and how we still hold him in the highest esteem over three decades since we left.
In very many ways, my interactions with the school and this Boy RSM opened my eyes to a lot of possibilities. I knew from then that we still have a future worth looking forward to, that leaders are still being built and that great leaders are distinguishing themselves by little and often unnoticeable actions. I sat in the pavilion watching the POP, the voice and the very altruistic acts of Boy MWO Nnamdi Njoku (BRSM 2014/2015) kept ringing to remind me that the Nigerian Military School is still on the path the founding fathers dreamed of.
I know and I believe that NMS is still in the business of producing great leaders for our great country and our world. Recently, this amazing young man along with his set rallied around a dying mate and tried as much as they could to bring relief to him. This act won the sympathy of the larger EXBA family who came in full force to offer support, unfortunately, we lost the patient. Once again, this BRSM exhibited great leadership with people like Victor Memoye to galvanise support for a truly just cause. And for this great spirit of an Ex-boy, Nnamdi Njoku, wherever you are today, thank you for rekindling that flame of hope in this heart that was weary with gloom. May the world be kind to you.