On 10th July 2021 Ebikabowei Kpokpo leaves Lagos or "steals" away from Lagos with his two kids to join his darling wife in the UK. I met Ebi in 1984 - Bravo Coy, Nigerian Military School, Zaria (NMS). He was quiet, soft-spoken, and more of an introvert. Then later his dad joins up as an instructor. Ebi was a smaller version of the dad in all things. Who can ever forget the "Let Me Daawun" saga at one of the Bush Exercises? A complete gentleman officer per excellence to a fault!
Fast Forward to 1989,  we passed out of NMS and reported to our various units. Ebi reports to Medical Corps Headquarters and was deployed to Military Hospital Lagos. Like every ex-boy, he attempted the Nigerian Defence Academy (NDA) but didn't make it. He resorts to reading Medicine, but JAMB obviously "JAMMED" him and he ends up reading Radiography at Federal School of Radiography Yaba. After the Diploma, Ebi shows a rare trait, he still aimed at reading Medicine and he gets his shot eventually, getting to reads medicine at the Ladoke Akintola University of Technology (LAUTECH).
Again like every ex-boy, commissioning was attempted severally without success, then something spectacular happens! I was in Sudan as a Subaltern with Atta Ayankop – another ex-boy brother, who after reading Anatomy went back to read Medicine. The Executive Commissioning Board was warming up, commissioned doctors were needed. One of the requirements was that candidates were to be Senior NCOs i.e. sergeants and above, but Atta and Ebi were corporals in 2013. While we were about to discard the forms, PRONTO! Atta and Ebi were given an immediate concessional promotion to sergeant and became qualified for the Executive Board. Expectedly, they were successful and got commissioned as Lieutenants. 
Fast Forward to 2015 and back to Ebi, he suddenly found himself in the theatre of war as the medical officer of his formation. It was time for his Young Officer's Course (YOC) but Ebi wasn't released for YOC in 2016. His Commander couldn't just imagine running his operations without the Doctor. Calls were made, connections were connected but all to no avail. He resolved to wait till the next year in his usual soft and non-pushy nature, but the next year never came!
Within that year, a Nigerian Army Policy came up stating that YOC was to become a prerequisite to promotion. That was how he missed his promotion to Captain in 2017. While we were still trying to absorb the rude shock, another tornado landed. Age "caught up" with Ebi and he was retired in 2018, Oh Wow! But wait, now comes the interesting part. What was Ebi's reaction to these harsh realities? If he was grateful to God for successfully attaining his dream career – Medicine, and also being granted the presidential commission, how was he now to face this double-barrel of missing promotion and retirement all because he wasn't released to proceed on YOC. 
When I spoke to Ebi after this saga, the guy was just so calm and I was the one so angry. Then I had to quickly "calm myself down". Ebi, instead of sailing on the seas of depression, hurt, regret, and complaints he was quick to adjust and face the storm. I never heard him complain ONE DAY! When I met him in person, he didn't allow me to dwell much on the saga and I struggled to respect his pointers. Before we knew what was going on, Ebi was back to school to improve himself professionally, doing a Post Graduate Diploma in Anesthesia. And by the time he was done, God blessed his efforts. He was offered employment by Lagos State as a Medical Officer specialized in Anesthesia.
I can never forget the night he hesitantly revealed his pay package to me (upon my request) as I dropped him off. I was just curious to know the extent to which his life had turned. My pay as a senior Major – I realized, was nowhere near this retired Lieutenant's pay package. I drove home that night very quietly, quite amazed. Not because his pay was higher, but just trying hard to juxtapose the realities of the denied YOC, missed promotion, unexpected retirement with where he was now. I felt SWEET on my inside … SWEET REVENGE kind of … to LIFE that had been HARSH!
Fast Forward again, one thing after the other, Ebi's wife is already in the UK working as a Radiologist, they had met during Radiology Studies at Yaba. Things are falling in place quite quickly and Ebi mooted to me casually that he and the kids were to join madam "INSHA ALLAH" (If God Permits) in the UK. The way he so casually mentioned it didn't show any seriousness nor desperation, but I wasn't to be taken by surprise anymore by Ebi's success story. And so when it eventually "clicked", he again softly mentioned it giving like a month's notice.
That month (July 2021) was swallowed up by the planning of my Dad's burial obsequies. And now today, I was just wondering how I could organize a mini send-off for this guy, but I'm really not the social type and the weekend is usually our busiest day as priests. Also, Ebi enjoys his privacy so I didn't feel he would love to leave Lagos with a "BANG". I consequently resorted to penning down these few lines to celebrate perseverance and doggedness, to celebrate calmness and composure, to celebrate resilience and faith, and to celebrate consistency and rigour.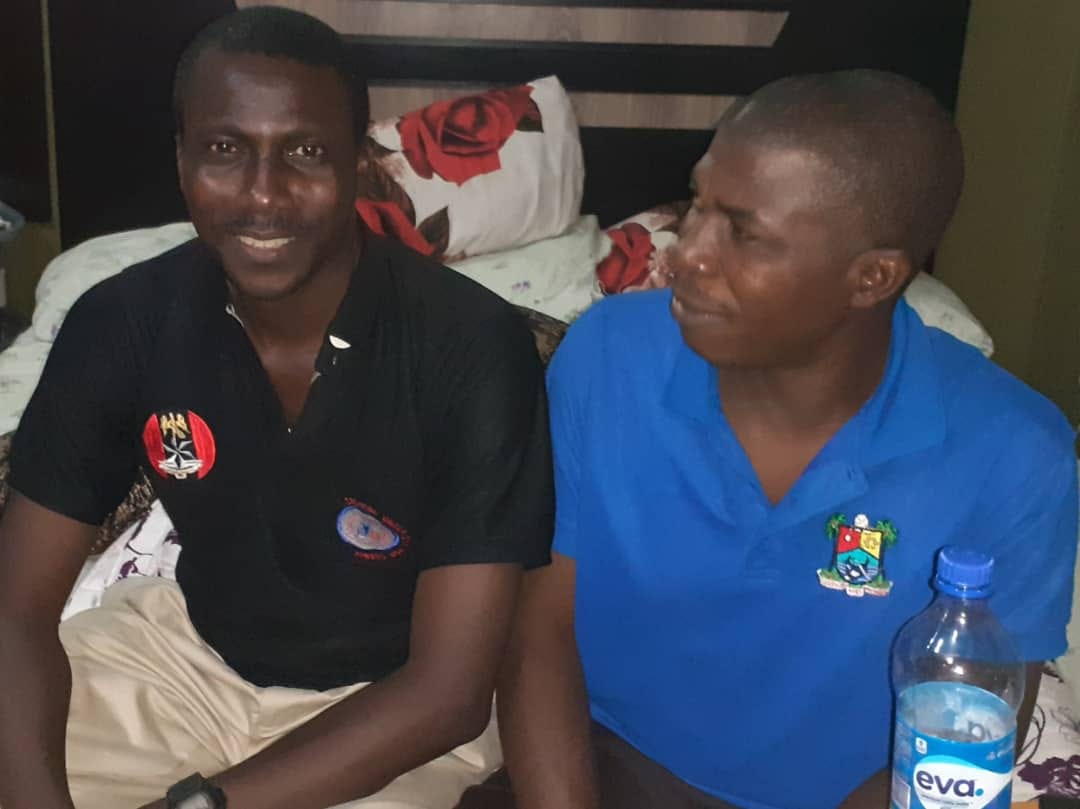 Aside from dedicating this to Ebi, I dedicate it to this family NMS 84, especially those of us that would soon drop this revered uniform within the next few years after wearing it for almost 4 decades to venture into LIFE afresh. Kudos to those of you that have already gone ahead to test the waters and courage to those of us about to venture out. You would agree with me that we all have a thing or two to learn from Ebikabowei Kpokpo who, by the time he would be reading this would have relocated. At least I'm happy that while celebrating him, I still allowed him to leave quietly.
Thank you Ebi, and happy relocation.